Do you have loads of Chocolate leftover from Christmas? Well what are you waiting for? I do this every single year. Make some cookie dough and fill it with your leftover chocolate. It's a much more exciting way of eating your chocolate than a midnight Netflix binge. And as I mentioned in my New Years Resolutions post earlier this week – baking is so therapeutic to me. Does anyone else feel the same? I've used my Peanut Butter Cookies recipe for these Christmas Chocolate Cookies – without the Peanut Butter of course.

Ingredients:
Makes 10 cookies
170g butter
100g light brown muscavado sugar
200g caster sugar
1 large egg
330g self-raising flour
Your leftover Christmas Chocolate. I've used Chocolate Coins and Heroes.
Christmas Chocolate Cookies Method:
Preparation: 10 minutes | Baking: 12 minutes
1. Preheat oven to 200c (180c fan) and line 2 baking trays with greaseproof paper.
2. Cream the butter and sugar. Add the egg and mix again.
3. Gradually add the flour, about 100g at a time, making sure your mixture doesn't get to dry. If you find it's a little too dry then add a slight bit of milk.
4. Add your "filling" and stir again gently to ensure it's evenly distributed throughout the cookie dough.
5. Roll the dough into 10 balls and place on the baking trays, pressing down slightly. Leave plenty of room for the cookies to spread. Place in the oven for 12 minutes.
6. Leave to cool. They will continue to harden in this process.
Enjoy…
Are you going to have a go at making these Christmas Chocolate Cookies? What Chocolate have you got leftover to fill them with?
Until next time,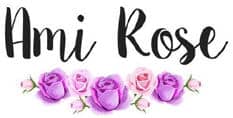 Be sure to follow me on social media to keep up to date with my latest posts!
You can find all of my social media links in the sidebar. I am @AmiRoseBlog on everything.