I thought I'd do the "What's In My Bag Tag" as I haven't done it yet and always enjoy reading these posts on others' blogs. If you haven't yet done it, please do and tag me in it, I'd love to have a read. I'm currently using this gorgeous Ted Baker Handbag from Ted Baker's SS13 range. And have been since January when my wonderful other half gave it to me for my 21st Birthday. What good taste he has [I definitely didn't choose it myself *rolls eyes*]. I love this bag but it's not ideal to use everyday as the leather is so soft it's all scratched on the back and looks a mess. I'm hoping there's something I can get to take it back to it's former glory so fingers crossed. [update: there was. See how Ted Baker rectified this].


This Ted Baker Handbag has two looks as you can take off the front pouch which doubles up as a clutch bag. Although I often use this front bit as an iPad case as it fits perfectly. It changes the bag completely when it's off though so you don't get bored of the same look. It's definitely impressive how much a girl can fit into a handbag – embarrassing too though. How much of this do I actually need?


I carry around sooo many things in this Ted Baker Handbag that I probably don't need. But they do come in handy sometimes, occasionally, probably never. I'm currently doing a 'samples only' few days to trying to always have some sachets with me. And have been carrying around this No7 nail polish with the intention of painting my nails but still haven't got round to it. This one is 'Devil's Delight' and one of my favourites from their entire range. This little 'Ginger' pot is actually a moisturiser (yes I originally thought it was a lip balm too). I'm pretty sure I got it free in a magazine last year. I'm not sure on the brand of it but any moisturiser of this size is perfect for sorting out dry skin.

A few randoms here. I almost always carry around a hair clip so I can sort my hair out when driving me crazy. This one is from New Look. My Pandora bracelets that I was meant to put on this morning but completely forgot. I'm building up quite a collection now. I love Pandora Charms as each one has a different meaning. All I have to do is look at my bracelets and it makes me smile. A teabag – I'm a Green Tea drinker or fussy tea drinker. I take teabags everywhere with me in case someone doesn't have the tea I like. High maintenance or what ay! My favourite tea is mentioned in a previous post and is Twining's Long Jing Green Tea.

I wanted this purse for months but couldn't find it anywhere. So I was over the moon when I found it at the Cheshire Oaks outlet and for half price. I hope this purse lasts forever as I love it so much. I don't always carry around an umbrella but the weather has been strange in Gloucestershire this week. It's better to be safe than sorry. My notepad is an essential and goes everywhere with me, it's perfect for jotting down ideas for my next blog posts. My diary is never far away either, I HAVE to be organised and often fill each day with to-do lists. This is from one of my favourite shops, Paperchase.
Have you done the 'What's In My Bag' Tag? Have you got a favourite Ted Baker Handbag?
Until next time,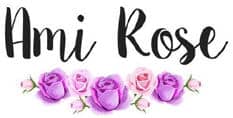 Be sure to follow me on social media to keep up to date with my latest posts!
You can find all of my social media links in the sidebar. I am @AmiRoseBlog on everything.