As many of you already know, I've been doing the LighterLife Fast #ICanDoThat challenge over the last couple of months.  Mum and I have been doing the challenge together and we've both found it so easy to stick to. As part of our #ICanDoThat challenge we visited Go Ape, when both Mum and I are scared of heights, which you can read all about here. We had such a fun day! LighterLife Fast helped us feel energised and ready to take on the challenge, and really helped us get rid of our bloated tummies which is something we both [used to] suffer with.

I've gone into details about the LighterLife Fast in a few of my previous posts but wanted to use this opportunity to share my Vegetarian Meal Plan and show you how to incorporate the products into a balanced diet. I haven't always stuck to the plan religiously, which is why I love, and enjoy, the products so much. I've been finding the products to easy to incorporate into a healthy lifestyle on the non-fast days too. The shakes are perfect for a nutritional, on the go breakfast. Much better than any 'breakfast bar' you'll pick up at the local supermarket. And I've always got an item from the Light Bites Snack range in my handbag.
A quick disclaimer before I start: I am in no way, shape or form a nutritionist (although my best friend is one). This is just a Vegetarian Meal Plan to show how I personally use the products as part of a balanced lifestyle. There will be things that you do differently, or products you don't like. But that's the ease of the LighterLife Fast. There are so many products to chose from, you'll almost certainly find some favourites among their selection. As well as the foods mentioned below, I always make sure I drink at least 2 litres of water daily and usually 3-4 cups Green/Fruit Tea.
---
Monday: Day 1
Breakfast 7:30am – Tesco Special Flakes with Red Berries, an Apple and a cup of Green Tea.
Lunch 1pm – A Salad consisting of Crispy Salad Mix, Red and Yellow Pepper, Cucumber, Carrot, Feta Cheese, a dollop of Red Pepper Hummus and Chia Seeds.
Afternoon Snack 3pm – A Cherry Muffin and a Blackcurrant and Rhubarb Tea.
Dinner 7pm – Roast Dinner: Roast Potatoes, Parsnips, Yorkshire Pudding, Carrots, Brussels Sprouts, Cabbage, Green Beans, Stuffing and a Quorn 'Chicken' Fillet.
---
Tuesday: Fast Day
Breakfast 9am – LighterLife Fast Strawberry Shake.
Lunch 1pm – LighterLife Fast Tomato and Herb Soup.
Afternoon Snack 4:30pm – Light Bites Strawberry and Apple Fruit Chips.
Dinner 8pm – LighterLife Fast Pasta Carbonara and a LigherLife Fast Nut Fudge Bar
---
Wednesday: Day 3
Breakfast 8am – Toast with Marmite and a Banana (and a Green Tea).
Morning Snack 11:30am – A handful of Lidl Trail Mix.
Lunch 1pm – Jacket Potato with a small tin of Reduced Salt Beans and Crispy Salad.
Dinner 6:30pm – Vegetarian Lasagne made with Quorn Mince, served with Mixed Vegetables.
---
Thursday: Day 4
Breakfast 9:30am – Lighterlife Fast Strawberry Shake.
Lunch 1:30pm –  Minestrone Soup with a small Wholemeal Roll.
Afternoon Snack 3pm – Wasabi Coated Chickpeas (homemade).
Dinner 6pm – Tesco Vegetable Chilli Balti with Uncle Bens Wholegrain Rice.
Evening Snack 8:3opm – Frozen Banana.
---
Friday: Fast Day
Breakfast 8am –  LighterLife Fast Banana Shake.
Morning Snack 11am – Light Bites Goji Berries, Quinoa and Pumpkin Seed Bar.
Lunch 1pm – LighterLife Fast Hearty Vegetable Soup.
Afternoon Snack 5pm – Lighterlife Fast Chocolate Raisin Bar.
Dinner 8pm – Lighterlife Fast Spaghetti Bolognese.
---
Saturday: Day 6
Breakfast 9:30am – Scrambled Egg on Wholemeal Toast.
Lunch 2pm – M&S Nourish Bowl (Sweet Potato Bites, Chickpeas, Hummus, Butternut Squash).
Afternoon Snack – Light Bites Roasted Shallot and Cider Vinegar Popped Chips.
Dinner 7:30pm – Mexican Bean Wraps: Mexican Bean Burgers cooked and cut into strips. Mixed with Reggae Reggae Sauce. Served with Peppers, Tomatoes and Onion (recipe coming soon).
---
Sunday: Day 7
Breakfast 9am –  Tesco Special Flakes with Red Berries.
Lunch 1pm – Tomato Pasta with Feta Cheese and Sundried Tomatoes.
Afternoon Snack 3pm – Half a Cadbury's Easter Egg (oops).
Dinner 7:30pm – Chinese Vegetable Chow Mein and Prawn Crackers.
---
I like to think I have a varied, balanced diet. I will usually have one takeaway a week, or every couple of weeks. If I'm feeling naughty it'll be a Vegetarian Pizza, if not, I will have a Vegetable Chow Mein like this week. And I can't resist a little bit of chocolate. I always drink 3-4 cups of Green/Fruit Tea a day and at least 2 litres of water. Snacks tend to be nuts or unrefined carbohydrates which fill me up, instead of leaving me craving for more. I've been making my own roasted chickpeas recently so I have a recipe for those coming soon, as well as the recipe for my Mexican Bean Wraps.
On the Fast Days I tend to start the day with a Strawberry/Banana Shake, I love these so much that I even start some of my non fast days with them too. I adore almost all of the LighterLife Fast Bars, especially the Nut Fudge Bars – they make me look forward to my Fast Days. And as I mentioned above, I always have a product from the Light Bites range with me. My favourites are the Strawberry and Apple Fruit Chips and the Superfood Fruit/Seed Bars.
I hope this Vegetarian Meal Plan has given you some ideas. I'd love to hear how you get on if you try the LighterLife Fast 5:2 yourself.
Until next time,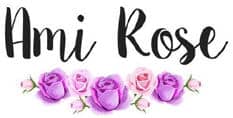 Be sure to follow me on social media to keep up to date with my latest posts!
You can find all of my social media links in the sidebar. I am @AmiRoseBlog on everything.