Well it's been 3 years since my last Twinings Tea Tasting, where does time go? I thought it was about time I did an update, including some of the new teas and a retest of my favourites. Spoiler: Blackcurrant and Rhubarb is still absolutely divine. Whenever I go into London and have some 'me time' to shop around, I always make my way to the Twinings Tea Shop and Museum in Strand. And this was the first place we went when we headed into London for Sam's Birthday last month. You can read all about what else we got up to on our trip here.

I initially went to pick up some teas for my Grandma as I was going to give her some as part of her Christmas present. I've recently got her into drinking Green Tea and now she's drinking it by the box. And is feeling so much better for it. I can't remember the last time I drank a 'normal' tea. Anyway, I thought I'd buy my Grandma a selection of teas to try and hoped she'd find some new favourites amongst them. It wasn't until I was purchasing these for her that I thought about getting some for myself too and doing a Twinings Tea Tasting (part 2).
I've already mentioned above but I'm going to go ahead and say that Blackcurrant and Rhubarb is still my absolute favourite, very closely followed by Mango and Strawberry. I could drink these again and again throughout the day and they really satisfy my sugar cravings. Sam came into my office when I was drinking the Mango and Strawberry Tea and asked if I'd sprayed perfume. It smells so sweet.
The first new tea I tried was the Spicy Chai, this is flavoured with Cinnamon, Clove and Ginger. You can add milk and sugar to sweeten it which I probably should have done as it was very strong. I then tried the China Rose, this one was very fragrant and I was certain I wasn't going to like it. Much to my surprise, I did. It's definitely not something I could drink all the time though. Another one I was pleasantly surprised with was the Root Ginger infusion. I like Ginger but thought it would be far too strong in a tea, but this was so enjoyable. I even brewed the tea a little longer for a stronger taste.
Pure White Tea was one I tried, and loved, in my last Twinings Tea tasting. This is very similar to Green Tea but a little sweeter. I could drink this throughout the day like I do with Green Tea. I'll be buying a box of these when I spot them (on offer of course). Another Green Tea I tried was the Gingerbread Green Tea. I'd tried the Salted Caramel and Fudge Melts ones before and didn't like them so was expecting to feel the same about the Gingerbread one. And unfortunately I did, they're just a bit too sweet for me.
I must admit, the Smoky Lapsang tea ended up down the sink, there is no way I could have drank that. It smelt like a BBQ, I just knew I'd hate it so it didn't touch my lips. But the Golden Darjeeling and Pure Ceylon made up for that one, especially the Golden Darjeeling. There were both enjoyable 'every day' teas. I drank the Pure Ceylon black but I think it would have been more enjoyable with a dash of milk.
Do you love Twinings Tea as much a me? Which are your favourites?
Until next time,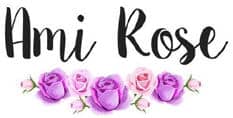 Be sure to follow me on social media to keep up to date with my latest posts!
You can find all of my social media links in the sidebar. I am @AmiRoseBlog on everything.