Simply Beautiful Collection or SBC Gels is a British Beauty Brand founded in 1988 which produces 'powerfully active natural skincare and body care that really works'. This includes prescriptive gels, moisturisers, serums, polishes, cleansers, and bath and body essentials. They have a vast range of skincare collections/products for all skin types. You can search their website for products by skin type or symptom meaning you can find products that are perfect for your skin.


Their Vitamin Collection is one of SBC Gels most popular ranges featuring their new addition, the Vitamin ACE Collection. This contains moisture boosting Vitamin A, brightening Vitamin C and refining Vitamin E along with many other ingredients. This collection contains a skincare gel, shower gel, hydra-gel serum*, night and day cream* and a body crème.
Another collection that stands out to me is their Super Fruits Collection, this consists of a gel, hydra-gel serum, bath and shower crème, hand wash, hand and body lotion, body scrub and body butter. I especially like the sound of the body butter as I love really strong, sweet smelling moisturisers. I can imagine the raspberry and cranberry additions produce a really sweet scent. This collection contains antioxidants and vitamins as well as lightening and brightening properties, vital for neglected skin.
They have a Collagen Collection which aims to plump and hydrate the skin to reduce the appearance of fine lines and wrinkles. This collection contains a gel, cleanser, face cloth, hydra-gel serum, day and night cream, bath and shower crème, hand wash and a hand and body lotion. This collection is aimed at dehydrated, mature skin types.
The last collection I'm going to touch upon is their newest range, the Cotton Collection. This has a 100% allergen free fragrance and is suitable for all ages, from babies to adults and has been created for people with 'sensitive, allergy prone skin'. This range aims to help the skin quickly regain strength. So far this range contains a gel, hand and body lotion, bath milk and body oil*.
As you can tell Simply Beautiful Collection really have thought of absolutely everything. And this is only four of their collections. Other collections available are the Aloe Vera Collection, Baby Collection, Lavender Collection, Rose and Argan Oil Collection and the Wellbeing Collection and that's only naming a few.
As I've already mentioned above, they have a system where you can search for products by skin type or symptom. They also offer advice on their website to give you tips and useful product recommendations. Which makes shopping for skincare so much easier.
Have you tried any SBC products? What did you think?
Until next time,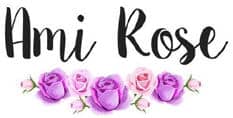 Be sure to follow me on social media to keep up to date with my latest posts!
You can find all of my social media links in the sidebar. I am @AmiRoseBlog on everything.