Struggling to find the perfect gift for the foodie in your family? This Christmas Gift Guide should give you a few ideas to get you started. From Tea to Cocktails to Chocolate to Kitchenware. It covers everything. The Lauden Chocolates are especially gorgeous and you can't go wrong with a monthly alcohol subscription.

1. Arden and Amici Prosecco Panettone* (£10.00) Arden and Amici create many different flavoured Panettone which would make ideal gifts, including Prosecco, Chocolate Chip and Cranberry and Orange. These would also be lovely to present at the dinner table as a pudding after your big Christmas Dinner.  Image Source
2. Jolly Holiday Rudolf Barrel Mugs (£12.00) I think I'm slightly addicted to buying mugs, I have far too many and I can't stop buying them. This is a gorgeous set of festive mugs from BHS which would look great in any kitchen. BHS have got a great selection of mugs, including a French Bulldog one that I'm currently lusting over. Image Source
3. Lauden Mixed Chocolates* (£15.00) I can't get over how gorgeous these chocolates are, almost too good to eat. There are 12 different flavours within each pack of 20 ranging from Sour Cherry to Salted Caramel to Marc de Champagne, something for everyone.  You can also find smaller (or larger) packs on their website.
4. John Lewis Crate Expectations Hamper (£65.00) Hampers are ideal for Christmas Gifts and John Lewis have some fantastic ones this year. This one is aimed at men consisting of Ale, Chocolate, Cinder Toffee, Bramble Jam with Gin and a 'Man Slab'.
5. Taste Cocktails Subscription Box (£24.00 monthly) This is a gift that keeps on giving, Taste Cocktails either to Single Kits or monthly kits if you have a bit more of a budget. These kits will arrive at the door each month filled with all the ingredients to make 5-6 drinks with the chance to explore new flavours and learn the history behind the drinks.
6. Twinings Regal Loose Tea Gift Set (£28.50) I would love something like this as a Christmas gift as I'm a major 'teaaholic', Twinings have a lovely range of different tea sets/hampers this year. Their Regal Loose Tea Gift Set comes with a sachet of their Nutty Chocolate Assam Tea, a Burleigh Teacup and Saucer and Gold Heart Miss Etoile Tea Strainer presented in a beautiful gift box.
7. Proud and Co Silhouette Oven Glove* (£10.99) Every foodie enthusiast or anyone that does any form of cooking needs a good oven glove. This one doesn't only look pretty, it's also non slip, waterproof, machine washable and comfortable too.
8. Chocoholics Hamper (£29.99) Another hamper for the chocoholics among us, this is making my mouth water just looking at it. This is exclusive to Lakeland and includes fudge, cake, popcorn, hot chocolate and much much more.
9. Say It With Champers offer personalised Champagne and Prosecco, Mini Prosecco and Hampers. I love the idea of getting something personalised for someone. You can get the label/s personalised with names/greetings of your choice or bespoke design bottles. I've tried some of their English Sparkling Wine and it's gorgeous.
I hope this Christmas Gift Guide has given you some ideas. I'd love to hear which gift guides you'd like to see next.
Until next time,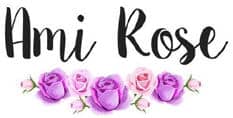 Be sure to follow me on social media to keep up to date with my latest posts!
You can find all of my social media links in the sidebar. I am @AmiRoseBlog on everything.