I bake much more in the Autumn/Winter. I'm sure it's got something to do with the colder weather and wanting to snuggle up on the sofa with a nice freshly baked cake. I find myself spending much more time indoors because of the darker evenings and just want to bake, bake, bake. I don't hear anyone complaining though. I'm wanting to do lots of new recipes for you over the next few months so please comment with any suggestions of recipes you would like me to write. I'll try to make each and every one of them. This Millionaire Shortbread was highly requested by my fiancé as it's one of my specialities.
Millionaire Shortbread is one of my childhood favourites, I can always remember choosing it in the Leisure Centre Cafe as a treat after my swimming lessons. I was desperate try the Easy Bake Tray* kindly sent to me by BuySend and thought this would be the ideal opportunity as I always end up breaking the chocolate on top whilst slicing them.



---
Millionaire Shortbread Ingredients:
Makes 18 squares
Shortbread
100g caster sugar
200g butter
200g plain flour
Caramel
2 x 397g cans of condensed milk
100g butter
100g light brown sugar
200g chocolate to top
---
Method:
Preparation – 40 minutes | Baking and Cooling 1 hour 45 minutes
1. Preheat the oven to 180c and lightly grease your baking tray.
2. To make the shortbread mix the flour and sugar together then rub in the butter with your fingertips until it resembles bread crumbs. Then knead the mixture together until it forms a soft dough, add a little more flour if the dough is still sticky. Press into the base of the baking tin and bake for 12-15 minutes until slightly golden. Leave to cool.
3. Whilst the shortbread is cooling you can prepare the caramel. Mix the butter, sugar and condensed milk in a pan and heat gently until the butter and sugar have dissolved into the milk. Bring the mixture to the boil then reduce the heat and stir continuously for a further 10 minutes until the sauce has thickened. Pour over the shortbread and leave to cool. You must ensure that the caramel is completely cool before topping with the chocolate. I leave mine to cool for around 45 minutes.
4. Melt the chocolate in a bowl over a pan of hot water then pour over the top of the caramel. Leave the chocolate to harden, I find it's best to leave it overnight.
Enjoy…
I'd love to see your photos if you have a go at making this Millionaire Shortbread yourself. What is your favourite thing to bake?
Until next time,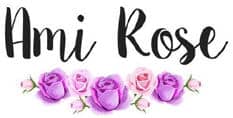 Be sure to follow me on social media to keep up to date with my latest posts!
You can find all of my social media links in the sidebar. I am @AmiRoseBlog on everything.