I've been looking for a perfect, wintery nude colour for a while and I'd almost given up when this Morgan Taylor wonder appeared in my Beauty Blogger Awards goodie bag a couple of weeks ago. I'd been home from the event no longer two hours until I couldn't wait any longer and had to try the colour out, I loved it immediately.
I'd heard of Morgan Taylor Nail Lacquers before and seen colours/ranges mentioned on other blogs but I wasn't too sure where I could buy it. I've since discovered that it's brand mainly aimed at salons but it can also be bought online via www.nailpolishdirect.co.uk/morgan-taylor-m280 and probably a few other online distributors with well over 150 gorgeous shades to chose from. I'm already eyeing up their Autumn colours, especially 'Vixen In A Mask' and 'All The Right Moves'.

The colour I've used for this look is 'Tan My Hide'* which is an elegant pinky/peachy nude. One coat covered perfectly but I always do two coats to ensure full coverage. I found that this polish took a while to dry completely but once dry it didn't chip or wear for just over a week which I thought was fab. I forgot to put a top coat on this colour so I expect it would have lasted even longer if I did.
Have you got a go-to nude nail polish? Have you tried any polishes by Morgan Taylor?
Until next time,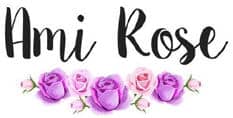 Be sure to follow me on social media to keep up to date with my latest posts!
You can find all of my social media links in the sidebar. I am @AmiRoseBlog on everything.