I wasn't planning on baking these Banana Muffins but as I've mentioned in previous baking posts, I do not like waste. I had some very overripe bananas so I had to think of a recipe containing bananas so I could use them up. I originally thought of making a banana loaf but remembered I don't have a loaf tin, I did think about using a cake tin instead but it probably wouldn't have worked so I decided to make Banana Muffins. Banana Muffins don't require many 'far fetched' ingredients, usually ones I always have in the cupboard so these are definitely going to be something I make more often.


Banana Muffins Ingredients:
Makes 10-12 Muffins
250g self raising flour
1tsp baking powder
1/2tsp cinnamon
75g melted butter
115g caster sugar
1tsp vanilla extract
pinch of salt
2 eggs
125ml milk
2-3 ripe bananas (mashed)
Method:
Preparation – 15 minutes | Baking – 25 minutes
1. Preheat oven to 190c and place muffin cases in a muffin tin. Sift flour, baking powder, cinnamon, salt and caster sugar into a bowl and mix together until the ingredients are combined.
2. In a separate bowl mix together the eggs, vanilla, milk and melted butter then add to the flour mixture, stir until ingredients are combined but don't over stir as this will release the air from the mixture.
3. Place the mixture evenly into the muffin cases and bake for 20-25 minutes until golden. Leave to cool.
Enjoy…
Please send me your photos on Twitter (@AmiRoseBlog) if you have a go at making these Banana Muffins. I would love to see them.
Until next time,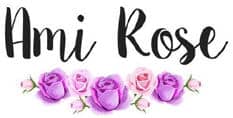 Be sure to follow me on social media to keep up to date with my latest posts!
You can find all of my social media links in the sidebar. I am @AmiRoseBlog on everything.