I can't believe I haven't featured BarryM's Crackle Nail Effects in a Manicure Monday post yet, I hope I haven't anyway. These polishes were a favourite of mine for a long long time, I changed the colours around but had my nails painted with these for around 6 months when they were first released. I rediscovered my collection the other week so I thought I would give them a go again, I don't know how I even forgot about them in the first place. BarryM have stopped manufacturing their Crackle Effect polishes now but many other brands are still making them.


I can tell this is going to be a shorter Manicure Monday post as there really isn't anything to say about creating this nail art look, it's so easy. Firstly prepare your nails using a clear base coat, I've been using Nail HQ Strengthener and then chose your base colour, I went for Gold as I'd already chosen my Purple Crackle Effect polish and thought this would contrast well with it.
Once your base colour is totally dry paint ONE coat of the Crackle Effect polish over each nail and watch the magic happen. It will create the effect as it dries and each nail will be different which is something I love about these polishes. This polish will be dry to the touch within seconds too but I'd recommend leaving it for around 5 minutes before applying a clear top coat; I used Nail HQ Strengthener for this also.
I won't be forgetting about these again for a while, I think the finished effect looks like it took much longer than it actually did too.
Have you tried Crackle Nail Effects? What did you think? Which colour combination do you usually go for?
Until next time,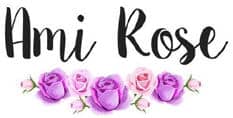 Be sure to follow me on social media to keep up to date with my latest posts!
You can find all of my social media links in the sidebar. I am @AmiRoseBlog on everything.