January is always a health kick, weight loss, start to love my body again month for me. I'm definitely a 'new year, new start' person, I'm SO motivated in January. And this year I had an extra boost, in the form of LighterLife Fast products, to help me through the month. I binged and binged and binged throughout the Christmas break, but doesn't everyone? I just can't resist the sweets and treats put in front of me. And the only time I exercise over Christmas is when I walk to the fridge to get more chocolate. I couldn't be happier to have the LighterLife Fast products by my side to kick start my January health kick.
I wanted to write this post just to tell you about the LighterLife Fast products and give you a little insight into what it's all about, what products they offer and what you can expect to get out of the 5:2 diet. Then I'll be writing another post after a month of using the products to let you know how they've worked for me.

The LighterLife Fast is a 5:2 Diet, available exclusively at Superdrug. You eat normally for 5 days and 'fast' using the meals, shakes, bars and pots for 2 days. The Fastpacks restrict your daily calories, and on the LighterLife Fast 5:2 diet, you can expect to eat up to 800 calories on a Fast Day. There is such a range of foods in the Fastpacks, including Shakes, Bars, Soups, Porridge and meals such as Carbonara or Shepherds Pie. You should chose four of these for a Fast Day. For example a Strawberry Shake for Breakfast, Pasta Carbonara for Lunch, a Fudge Nut Bar as a Snack and Spaghetti Bolognese for Dinner. Doesn't really sound like fasting does it? Fastpacks give you 100% of your RDAs of nutrients, without the calories.
I've tried some of the products before and have already done 3 fast days this month. This has given me a chance to try some of the new products available too. The Strawberry Shakes are by far my favourite, I could drink these every single day. Shakes are often grainy or watery but these are delicious. And a little hack for you – pop it in the fridge for an hour after shaking – this will thicken it. It honestly tastes like Angel Delight. I also thoroughly enjoyed the Marathi Lentil Masala with Rice Fastpot and the Pasta Carbonara is lovely too. The Nut Fudge Bars have remained one of my favourites since my last LighterLife fast, I pop this one in the fridge too which makes it extra yummy. The Bars are great for satisfying sugar cravings, especially the Double Chocolate Meal Replacement Bar.
LighterLife have just introduced the Light Bites Snack Range. These are all less than 100 calories per product and make a perfect alternative to fatty or sugary snacks. Whether you're on a fast day or not. Products in this range start at just 99p and consist of Bars, Popped Chips and Fruit Chips. I haven't tried any of these yet so I'll let you know what I think in my 'How I Got On' post next month. Up to two of the Light Bites range can be consumed on a Fast Day, in addition to the four products from Fastpacks.
I'm really looking forward to trying the other products and would LOVE for you to join me on my LighterLife Fast Challenge. And lucky for you, I can make that happen. LighterLife have kindly gifted me a 2 week Kick Off Kit worth £38.00 for one of my readers, this contains everything you need for 2 weeks on the LighterLife Fast Diet. Porridges, Bars, Shakes, Meals the lot, along with a free shaker. You can enter the giveaway using Rafflecopter below.
a Rafflecopter giveaway

UK only. The winner gives permission for me to share their details with LighterLife so they can arrange delivery of the prize. If the winner does not claim their prize within 28 days, a new winner will be chosen. There will be one winner chosen at random on 9th February.
Have you tried the LighterLife Fast before?
Until next time,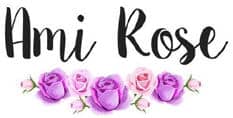 Be sure to follow me on social media to keep up to date with my latest posts!
You can find all of my social media links in the sidebar. I am @AmiRoseBlog on everything.