I said I had another Jelly Belly recipe for you this week, and this is a nice quick and easy one. You can make this with just a microwave and a few utensils, I actually made this at work in the little kitchen area we have. I make Chocolate Bark all the time, it always taste so much nicer than 'plain' chocolate, you can fill the chocolate with absolutely anything you like. I've chosen Jelly Belly Beans and Marshmallows this week. I've even made the chocolate fancy too.

Chocolate Bark Ingredients:
Makes around 10 pieces 
2 bars Milkybar chocolate
Pink food colouring (NOT water based)
60g Jelly Belly beans (I used the Jewel Collection*)
40g mini marshmallows
Method:
Preparation – 10 minutes | Cooling – 1-2 hours
1. Melt the 3/4 of the Milkybar chocolate, you can do this in a bowl over a pan of boiling water or pop in in the microwave for 2 minutes. Set this aside then melt the remaining 1/4 in a separate bowl.
2. Add pink food colouring to the 1/4 chocolate, you must use a paste or gel as water based food colourings will cause the chocolate to crumble and not set again. Make this chocolate as pink as you like, this will be swirled into the other chocolate.
3. Stir almost all of your Jelly Belly beans and mini marshmallows to the 3/4 chocolate mixture, leaving a few aside to push in at the end.
4. Pour this mixture into a baking tray lined with baking paper then swirl in the pink chocolate to give your Chocolate Bark a marbled effect.
5. Push in the remainder of your Jelly Belly beans and mini marshmallows. I tend to be as random as possible with this.
6. Leave in the fridge until set, this will take around 1-2 hours. Break into chunks (bark).
Enjoy…
Have you made Chocolate Bark before? What would be your filling of choice? I'd love to see your photos on Twitter (@AmiRoseBlog) if you have a go at making this yourself.
Until next time,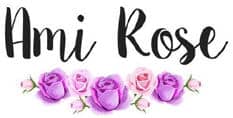 Be sure to follow me on social media to keep up to date with my latest posts!
You can find all of my social media links in the sidebar. I am @AmiRoseBlog on everything.