As I'm off on my holibobs next Tuesday (depending on whether we get the time off work), I thought I'd give my hair a bit of loving. It's been quite dry recently and I haven't given it a proper pamper in a while. This was until I discovered the WEN Haircare Kit by Chaz Dean. The 5 Piece Trial Kit consists of a Cleansing Conditioner, Anti Frizz Styling Creme, Nourishing Mousse, Re Moist Intensive Hair Treatment, Straightening Smoothing Gloss and a Replenishing Treatment Mist. There are two fragrances available, Pomegranate and Sweet Almond Mint and the WEN 5 Piece Trial Kit* retails at £39.99.

The first step is the Cleansing Conditioner, designed to cleanse and moisturise your hair making it stronger and more manageable. This should be used once a week, after shampooing. The WEN Haircare Kit comes with a chart showing you how much product you need for your hair type. For long hair you need to use 24-32 pumps which seems like quite a lot. Although it ensures it covers all of your hair. Use half of the recommended amount, moisturise into your hair, rinse, then repeat with the other half. You can use an extra pump as a leave in conditioner for the ends.
Then there is the Re Moist Intensive Hair Treatment. This should be used up to twice a week. I only wash my hair twice a week so I use it on one of the washes. Usually my Sunday wash when I have a little more time. Apply this after using the Cleansing Conditioner and leave for 20-30 minutes then rinse thoroughly. I usually put my hair treatments on, then relax in the bath and let them work their magic.
The Anti Frizz Styling Creme can be used after Cleansing when you need more controllable hair or if you suffer with frizz. Apply this to the mid to ends of your hair after getting out the shower and style as desired. I haven't used this one yet as I don't tend to suffer with frizz. Although it may be ideal to take on holiday with me. This also protects your hair from heat damage when styling.
The Nourishing Mousse can be used alongside the Anti Frizz Styling Creme or instead of it. It's designed to add volume, body and shine. I've used this a couple of times and there's always a noticeable difference in how easy my hair is to style afterwards. I don't usually blow dry my hair so I've just been adding this then leaving my hair to air dry, it may have a better effect if used with heat styling products.
I've been using the Replenishing Treatment Mist regularly, this is my favourite product from the selection and the Sweet Almond Mint scent is gorgeous. This can be used on wet hair before styling or one dry hair to add extra hydration. I've been spritzing this on my hair after styling and it adds a nice, natural shine. You only need to use a little too.
Have you tried any WEN Haircare products?
Until next time,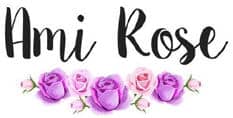 Be sure to follow me on social media to keep up to date with my latest posts!
You can find all of my social media links in the sidebar. I am @AmiRoseBlog on everything.