Instead of taking all of my empty products home with me, I thought I'd do a separate post for my Santorini Holiday Empties. So you can see the products I was loving during my week in the sun. I usually take a lot of sample size products with me on holiday so they take up less room in the suitcase. You're never going to get through a full size product anyway so it seems pointless. I often take products from my 'to try' box too as I have extra time to pamper when I'm abroad. I try and relax as much as I can.

BarryM Glitterati – I knew this was almost finished so I thought I'd bring it along, people are always amazed that I mange to finish nail polishes. Once I find one I love, I pick it out again and again. The Glitterati range is one of my all time favourites by BarryM. You can view my Frozen Themed Nail Look here.
Nivea Deodorant –  I always take roll on deodorant with me on holiday as I'm sure you're not aloud aerosols on carry on. And we don't always check in our luggage. Sam uses the men's version of this one too. I don't think there's much you can say about a deodorant but I keep going back to this one so Nivea must be doing something right.
Clearista Retexturising Gel – I featured this a while ago and I'm still loving it. I use it as an exfoliator after taking my make-up off in the evening and as a face wash in the morning. It's so gentle but gets rid of any dry/flaky skin so it's ideal for a holiday with increase sun exposure. I'm sad this is featuring in my Holiday Empties, I'm going to have to repurchase now.
Valentino Perfume – I love sample sizes like these rather than the sachet version with a little bit of tissue inside. I keep these in my handbag at all times and despite how small they are, they last a really long time. This one lasted me a week which isn't bad for a freebie. I think I got this in my Cosmopolitan magazine and it smells wonderful.
Body Shop Instablur – This was on my January Wishlist, I bought it before my birthday on the 15th January and after using it every single day it lasted me until the 10th May. How amazing is that! 4 months of use for £10. My skin loves this and I'll be buying it again once I've used my current primer, it's light on the skin and helps my make-up last all day. I'm sure this will be a forever favourite of mine.
Cuccio Moisturiser – I mentioned this in last week's Summer Holiday Essentials post. It smells gorgeous and soaks into the skin really well, without leaving it sticky whatsoever. I love moisturisers like that meaning you can get dressed straight away without having to awkwardly wait for your moisturiser to dry. They do many different scents so I'll be sure to try others in the near future.
Dior Mascara – I won this a while ago and it was sitting in my make-up drawer for a good few months before I finally got around to using it. It didn't disappoint, I loved the curl and volume this gave to my lashes but I really don't think it beats my favourite Maybelline mascara.
Ginvera Green Tea Day Cream – This is another product that has lasted me forever, I'm sure I've been using it daily for 3-4 months. As much as I loved it, I was actually glad to finish it as I've got so many other moisturisers waiting to be tried. I use this after washing my face in the morning, before applying my make-up and it really improves the texture of my skin and gets rid of any dry areas. I've written about Ginvera's Green Tea range here and I'm always recommending the products to friends and family.
Have you tried any of these products featured in my Holiday Empties post? What products have you finished this month?
Until next time,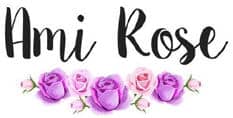 Be sure to follow me on social media to keep up to date with my latest posts!
You can find all of my social media links in the sidebar. I am @AmiRoseBlog on everything.