Last month Sam and I went on an adventure. As you may have read in my previous post, we decided to skip our "abroad" holiday this year. And venture out in one of our campervan's instead. As "Campervans" is what we do for a living we usually have one of our rental vans sitting in the workshop just waiting to be taken on an adventure. Whenever we have time for a holiday, we're so quick to jump on a plane abroad. We often forget about the beautiful country we have right at our feet. So that's when we decided to go on the Ultimate Camping Trip Around Devon and Cornwall.



I was determined this really was going to be the Ultimate Camping Trip. So I turned to the various Camping/Campervan Forums I'm on on Facebook for inspiration and suggestions. And my gosh you did not disappoint! We had over 200 different recommendations of places to see, stay and eat. I've listed every single recommendation at the bottom of this post for you in case you'd like to have a read through. As although we wanted to visit every single place, we would have needed at least a year. This was what I asked on Facebook.
"I need your recommendations! We're travelling around Devon and Cornwall for a week at the end of the month. Starting in Exeter, travelling along the south coast then back up the north.

Could I have your recommendations of picturesque, beautiful places to stay/visit along the way and things to see/do whilst we're there? It'll be the two of us and our dog Milo so dog friendly is a must! We have 6 nights in total and will stay at a different campsite each night so please get recommending the best places you've ever stayed! We're not overly bothered about the campsite amenities, just a warm shower, it's more about seeing and appreciating the beautiful country we live in! Thank you!!!"
The recommendations flew in. And I got planning almost immediately. The six places we decided to stay were Dartmouth, Mevagissy, Penzance, St Ives, Bude and Lynmouth.
We started our journey bright and early on Monday 25th September. Leaving our house in Bristol at around 9am and heading straight to Teignmouth to visit a friend. Neither of us had ever been to Teignmouth before. It was absolutely beautiful, made 100% better by the weather. We had a stroll along the seafront and played some of the arcade games on the pier and then headed to Finn Mccools Fish and Chip Shop for lunch.  We walked along to the Teignmouth "Back Beach" to eat them, whilst taking in the views across the River Teign.


From Teignmouth we headed to Torquay. Only a 30 minute drive away. Over the whole 7 days I tried to keep the drives in between places no longer than 45 minutes. We didn't spend long in Torquay but knew we wanted to stop. Again we strolled down the seafront towards the Bayside Beach Shop for an ice cream. But we weren't the only ones that got an ice cream, the owner made Milo one (for free may I add) and fed it to him. How lovely of her?
Our first night was spent at Broadleigh Farm in Totnes (£13 per night). This was a basic but clean campsite. Plenty of pitches, nice walks around the area and really warm toilet/shower blocks. I made the most of this. There's nothing worse than getting out of the shower and being freezing cold. We didn't really stay at any of the campsites long – instead used them as somewhere to sleep and wash, ready to continue our journey the next day.



We headed into Salcombe for Breakfast the following morning. I had a Spicy Vegetable Pasty and Sam went for a traditional Steak [and yes, we did live off of pasties and fish and chips for the entire week]. We stayed in Salcombe for quite a while before making our way to Burgh Island. Somewhere I would definitely suggest stopping at if you're passing. It's cut off from land at high tide and you have to take the "sea tractor" back to Bigbury. There's a gorgeous beach that Milo enjoyed tearing around and some wonderful walks on Burgh Island itself. We then went into Plymouth to see Milo's Mum [crazy dog Mum over here] as he hadn't seen her since we got him over 3 years ago. I'm not sure whether they recognised each other but it was so lovely to see her. I can't believe how big Milo is in comparison.

We spent our second night at Seaview International, St. Austel (£12 per night), stopping in the fishing town of Mevagissy on the way. We had dinner in the café on site and got an early night. I didn't realise how much walking we'd be doing. We were walking around 20km a day and were absolutely knackered by the end of the week.

We planned to spend day 3 travelling around the Lizard Peninsula but were quite unfortunate with the weather on the Wednesday. It is England after all… Instead we headed straight to Lizard Point, had a little walk when the rain stopped and went into Falmouth instead. We weren't planning on stopping in Falmouth but it's somewhere we know well and there's lots of shops to look in to avoid the rain. We spent the third night at Treverven Touring Park in Penzance (£13.50 per night). This was a very basic campsite but had everything you need for a one night stopover. I wouldn't recommended any longer than a couple of nights here.


I'm trying so hard to keep this short but I'm queen of rambling. We had lots to see on Day 4. First was the Minack Theatre. This was £5 to get in and as much as I begrudge paying entry fees to "landmarks" this really was worth it. The views were breathtaking as well as the history of the Minack Theatre. We also discovered Porthcurno Beach whilst at the Minack Theatre. This part of Cornwall definitely has the best beaches. From here is was on to Land's End. Well, sort of. We parked a bit further on from Land's End at Sennen Cove and walked the beautiful coastal path to Land's End instead. It's only £1 to park for an hour here, compared to the £6 Land's End expect. I dislike Land's End more and more each time though. They now charge £10 for a photo with the sign!



From Land's End we went to visit the Botallack/St Just Mines, which also happen to be a Poldark fliming location, and trekked miles around the coast. Gosh we really did do a lot this day. We stayed at the Ayr Holiday Park in St. Ives (£26 per night). Definitely the most expensive campsite we've stayed at but by far the most luxury. The facilities were second to none, with showers that actually stayed on for more than 30 seconds. You also have access to the Indoor Pool/Spa at the Hotel onsite and it's only a 10 minute walk to the beautiful St. Ives itself.



From St. Ives we headed into Newquay. Another place that we'd planned to skip this time around as we've visited so many times. But something drew us back in and we're glad it did. We had a lovely morning running around the beaches and paddling in the sea with Milo. Then we travelled to one of my favourite stops from the trip – Port Isaac. It's the village where Doc Martin is filmed which is something Mum and I loved watching. It was exciting to see the places in "real life". Such a quaint little village with beautiful cobbled streets. We stopped at the bakery, grabbed a "make your own" cream tea then climbed up a hill to take in these gorgeous views.
We stayed at Wooda Farm, Bude (£14 per night) for the 5th night, which is another site I'd most definitely recommend. It was a 5* site with 5* facilities and a really affordable price. We didn't do much in Bude itself, just more walking. The first place we went on Saturday morning was Westward Ho! – somewhere we always make a point of stopping. We spent a little bit of time here, had some fun in the arcades and took Milo for a walk along the seafront. We headed to Channel View, Lynmouth (£14 per night) for our final night. Stopping for a walk to Tintagel Castle on the way.


The last day of our trip was spent in Lynton and Lynmouth. The weather wasn't great, but it did stop raining for a walk around the town and a trip on the Lynton and Lynmouth Cliff Railway. A must see if you're in the area. It was one of our favourite places we visited during our trip and we're definitely planning to go again when the weather is nicer and spend a little more time there. I fell in love with some of the little gift shops and Milo enjoyed paddling in the river. Then it was time for the 2 hour journey back into Bristol. Stopping to visit my Grandma on the way. The week really made me appreciate the beautiful country we live in.
And breathe. I really did try to make that as short as possible but we did so much, I didn't want to miss things. I've left the list of other suggestions below. I'd love to hear if you'd visited any of the places.
What do you think of this Camping Trip Around Devon and Cornwall? Have you visited any of the places mentioned?
Until next time,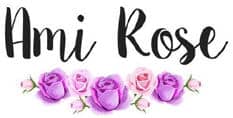 Be sure to follow me on social media to keep up to date with my latest posts!
You can find all of my social media links in the sidebar. I am @AmiRoseBlog on everything.
Other suggestions of places to stay/visit:
Valley of the Rocks – Perrenporth – Tintagel Waterfalls – Little Meadow Campsite – Peppers Pantry (pub) – Lyme Regis – South Milton Sands – Hope Cove – Crantock Beach – Polperro/Looe – Boscastle – Padstow – Kynance Cove – Hunters Lodge (pub) – Wembury – Mowgan Porth – Harlyn Bay – Eden Project – Lusty Glaze – Fowey – Ilfracombe Bay – Hayle Towans – Church Cove – Clovelly – Mother Ivy Bay – Mullion – Fistral Beach – Saunton Beach – Gwithian – Hollywell Bay – Pollyjoke – Prussia Cove – Lydford Gorge  – St. Michael's Mount – Woolacombe – Combe Martin – The Rame Peninsula – Cape Cornwall – Polzeth – Praa Sands – Bedruthan Steps – Appledore – Port William – Brixham – Paignton