Another month another jam packed Look Fantastic Beauty Box. This month's box is called #LFSUMMERLOVIN*. filled with skin, hair and make-up treats including Nuxe, This Works and the showstopping Benefit Goof Proof Eyebrow Pencil that I've been dying to try. This Look Fantastic Magazine is full of tips and tricks to solve summer hair and skin problems. And there's even a copy of ELLE Magazine for a bit of poolside reading.

Just like June's, July's Look Fantastic Beauty Box contains products from many brands I haven't tried before and products such as the Benefit Goof Proof Eyebrow Pencil that I've been eyeing up since it was released. I've been looking for a new brow product for a while and I'm hoping this is the one. July's box also includes;
This Works In Transit Camera Close Up – A fab all in one product, this works as a moisturiser, primer and mask so it's great for travel. Apparently one of Victoria Beckham's favourite products too! It's packed full of skin loving ingredients such as Hyaluronic Acid and Starflower Oils. This really moisturises your skin which is great in the hotter weather.
Benefit Goof Proof Eyebrow Pencil – This is the one I've been excited about as I haven't had a chance to try any of Benefit's new Brow Range. The shape of the pencil allows you to fill in any gaps and give your brows an even and flawless finish. It's so easy to use too, even for a make-up amateur like me. Benefit Goof Proof Eyebrow Pencil is waterproof too which makes it perfect for summer. Just make sure you've got some hardy make-up remover at the ready because it doesn't budge.
Nuxe Huile Prodigieuse Or – I thought this was a nail polish at first but it's dry oil for face, body and hair. Definitely different from anything I've ever tried before. This will infuse your skin with moisture whilst giving it a radiant glow. Which is exactly what we want in the summer months. It's made with 6 different plant oils, Sweet Almond, Camellia, Hazelnut, Macadamia, Borage and St Camellia and enriched with Vitamin E.
Kabelo Silk Anti Frizz Cream Serum – I love all the hair products in this month's box. I feel like I don't treat my hair enough so it's loving me after using these products. This cream leaves you with silky, glossy hair and makes it much easier to style. It also helps to reduce drying time which means that you will need less heat to style. Keeping hair as healthy as possible.
Bellapierre Lip and Cheek Stain – Another brand I hadn't tried before this box, Bellapierre. This is oil free meaning it won't clog pores, ideal for the warmer weather. It's the perfect pigment and adds just the right amount of colour, I find some stains have me looking like I should join the circus.
Miti Bobbles – I've got a few different makes of these bobbles and I love them all so much. They are easy to use, like a 'normal' hair bobble but don't leave kinks meaning you can easily take your hair back down without having to restyle. I was optimistic at first but I wouldn't use anything different now.
Are you subscribed to the Look Fantastic Beauty Box? You can subscribe here from just £11.25 a month.
Which products would you like to try? I love the Benefit Goof Proof Eyebrow Pencil.
Until next time,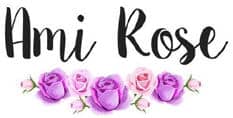 Be sure to follow me on social media to keep up to date with my latest posts!
You can find all of my social media links in the sidebar. I am @AmiRoseBlog on everything.