Of course we all love Makeup Samples. But what would you say if I told you they were better than full size products? Here's why;

1. Makeup samples are free (most of the time). This is the obvious reason, everybody loves free products.
2. You can use makeup samples before they expire. Yes, make-up expires. Don't worry, I'm guilty of over using products too, I'll use mascara until it completely dries out. Sample size products don't even give you the opportunity.
3. Your skin won't get used to them. Sample skincare is usually enough to last you a week or two, enough time for them to have an affect on your skin but not long enough for your skin to get used to them. Once your skin gets used to a product, you won't get the same results as when you first used it. It's advised to change at least one aspect of your skincare every few weeks.
4. You get to try new products. Another obvious one here but almost every make-up/skincare brand will let you try before you buy meaning you don't have to buy a full size product, only to absolutely hate it.
5. They're cute. Yes Benefit, I'm looking at you. Many brands make mini versions of their products and most of the time I prefer the look of the minis compared to the full size.
6. Makeup samples are handy. One of the main reasons of sample size is the idea of 'travel size'. Ideal to take on holiday, or keep in your handbag. I always carry a mini perfume and mascara.
7. You find products that suit you. Expanding on the try new products point here but many beauty brands give samples of their foundations which is something I always go for, I'm useless at testing foundation colours and always find I've bought the complete wrong shade, just ask, you'll be amazed how many brands do.
Do you love skincare and makeup samples? What are your favourites?
Until next time,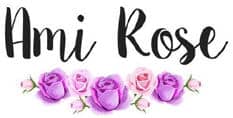 Be sure to follow me on social media to keep up to date with my latest posts!
You can find all of my social media links in the sidebar. I am @AmiRoseBlog on everything.