It was my Dad's Birthday at the beginning of the month and I told him I'd bake him a cake instead of buying one, he requested a Victoria Sponge or a Carrot Cake, he could have asked for anything but he kept it nice and simple – thanks Dad. Victoria Sponge is probably something I can bake with my eyes closed, I think anyone that's even slightly into baking could, especially with this easy peasy all in one method. I love making Victoria Sponge.


Victoria Sponge Ingredients:
Makes 1 20cm Sponge
200g caster sugar
4 medium eggs (beaten)
200g unsalted butter
200g self raising flour
1 teaspoon baking powder
Filling
150g strawberry jam
100g butter
1 teaspoon vanilla extract
170g icing sugar
Method:
Preparation – 10 minutes | Baking – 30 minutes
1. Preheat oven to 190c (170c fan) and line two 20cm sandwich tins.
2. Mix ALL of the cake ingredients together until you have a smooth mixture. Mix as little as possible to keep the air in the mixture but ensure the ingredients are well combined.
3. Divide the mixture between the two cake tins and even the surface with the back of a spoon. Bake for 20 minutes (or until golden and well risen). Leave to cool completely.
4. Once cool, make the buttercream by whisking the butter until smooth and creamy then gradually adding the icing sugar along with the vanilla extract. Spread this over the bottom of one the the sponges, top with the jam then place the other sponge on top. Dust the top with icing sugar (or a design of your choice).
Enjoy…
I'd love to see your photos on Twitter (@AmiRoseBlog) if you have a go at making this yourself.
Until next time,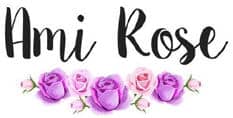 Be sure to follow me on social media to keep up to date with my latest posts!
You can find all of my social media links in the sidebar. I am @AmiRoseBlog on everything.