And we're on to part two of my Vegetarian Meal Ideas series. I'm literally [hate myself for using that word] going to take photos of everything I make and try to get all the recipes live for you. As I mentioned in last week's post, I'm cooking so much more recently and really starting to enjoy it. Vegetarian Chilli is something I regularly order when I go out to eat, it's one of my favourites. I thought I'd attempt my own version, and my gosh, as much as I don't want to blow my own trumpet, it was the best one I'd ever had. I posted the photo on Twitter and so many of you asked for the recipe I though I just had to post it. Although I'm my own worst critic and hate this photo of it. I'm sure I'll come back and change it soon enough.

Ingredients:
Serves 4
1 yellow pepper [diced]
1 large red onion [diced]
1 clove garlic [finely diced]
1 tin mixed bean salad [I buy this at Tesco]
1 tin chopped tomatoes
1 red chilli [finely chopped]
1 green chilli [finely chopped]
1 tsp paprika
1 tsp cinnamon
1 tsp soy sauce
1 tsp cumin
Chilli powder to taste
Rice/grains to serve
Method:
Preparation: 10 minutes | Cooking: 
1. Heat 2 tbsp olive oil in a pan. Add the diced pepper and onion and simmer on a low heat for around 10 minutes until starting to soften.
2. Prepare and start to cook your rice/grains before continuing with the chilli. I accompanied my chilli with Tricolour Quinoa on this occasion.
3. Add the tinned tomatoes, beans, chilli, garlic, spices and everything else to the pan with the peppers and onions. Cook on a low heat for around 10-15 minutes, stirring occasionally, until the sauce starts to thicken. You may need to add a little boiling water at this point if the sauce thickens too quickly.
4. Add any more spices/flavours/salt/pepper to taste. You may want to add chilli powder or extra herbs such as coriander.
Enjoy…
There really isn't much to this recipe at all. I know cooking from scratch can seem a little daunting at first but it's really a case of putting everything in a pan and hoping for the best. And a bit of trial and error of course. I've been told that dried/fresh coriander is a nice addition to this dish but I personally couldn't think of anything worse. But it's all down to personal preference. Depending on the strength of your chillies, this dish is already quite hot, but there's the option of adding chilli powder if necessary. I usually add mine to my personal portion as I like a lot of spice. The paprika gives this a lovely smokey flavour, the cinnamon makes it sweet and chilli makes it hot, such a perfect combination. In my opinion anyway.
Please send me photos if you have a go at making this Vegetarian Chilli, I'd love to see them.
Until next time,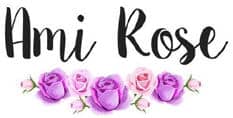 Be sure to follow me on social media to keep up to date with my latest posts!
You can find all of my social media links in the sidebar. I am @AmiRoseBlog on everything.