Since moving into my new house [I know I know, I still need to get the after photos live] I've been doing so much cooking. And really starting to enjoy it again. To begin with it felt like a bit of a chore, but now I've got into more of a routine, and my cupboards are usually fully stocked, I'm really loving it. I'm sure I have a similar recipe on my blog, but this Chickpea and Sweet Potato Curry is one of my favourites. I posted this photo of it on Twitter and a couple of you asked for the recipe. So without further ado, here's an easy, made from scratch, Chickpea and Sweet Potato Curry. Of course you're welcome to use the pre-made sauce jars to make it even easier.

Ingredients:
Serves 4
1 large red onion [finely chopped]
2 cloves of garlic
1 tin chopped tomatoes
1 green chilli [finely chopped]
1/2 red chilli [finely chopped]
1/2 pint of water
1 tsp turmeric
1 tbsp cumin
A pinch of cinamon
1 yellow pepper [diced]
2 large sweet potatoes [diced]
1/2 can of chickpeas [drained]
A handful of chopped herbs
Rice/quinoa/grains to serve
Chilli powder to taste
Method:
Preparation: 10 minutes | Cooking: 30 minutes
1. Place diced sweet potatoes in a pan of cold water and bring it to the boil. Then leave to simmer and soften for around 10-15 minutes, whilst you're preparing the sauce/other vegetables.
2. Whilst your sweet potatoes are cooking. Heat 2tbsp olive oil in a large pan. Then add your onions and peppers. Cook on a low heat for around 10 minutes until they start to soften.
3. Add your tinned tomatoes, garlic, chickpeas, chillies, and all other spices/herbs to your pan. You can be experimental with this bit. I don't think I ever use the exact spices in any of my curries. Flavour to taste, adding chilli powder if you feel it needs an extra kick. It'll all depend on the strength of the chillies (and how hot you like it). Drain the sweet potatoes and add them to the mixture.
4. Before you move onto the next step. Remember to start cooking your rice/grains so they're ready at the same time as your curry. On this occasion I used long grain rice but I also accompany my curries/chillies with Tricolour Quinoa.
5. Cook on a low heat for around 15/20 minutes until the sauce starts to thicken. Adding the boiling water if required if you feel the sauce is thickening a little too much. I usually end up adding around 1/2 a pint of water in the cooking process. It makes the curry go further too.
Enjoy…
Cinnamon is one of my secret ingredients when it comes to hot curries/chilli etc. I find just adding a little [half a teaspoon] gives it that perfect initial sweetness. Ready for the spice from the chilli powder to kick in afterwards. Although I've marketed this curry as vegetarian as part of my vegetarian meal ideas series, it is also suitable for vegans. I sometimes add spinach to this curry which is a nice addition.
Have you made anything like this Chickpea and Sweet Potato Curry before? Will you be giving this a go?
Until next time,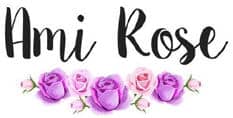 Be sure to follow me on social media to keep up to date with my latest posts!
You can find all of my social media links in the sidebar. I am @AmiRoseBlog on everything.