Last Saturday Sam and I attended The Bath and West Show courtesy of Barber's 1833. We were invited to enter a
Toastie Competition
. I've already written about this week along with a tour of the Cheese Awards and a Cheese and Cider Tasting. We couldn't wait. I tried to arrive early but underestimated how bad the traffic would be coming into the show. I ended up missing my toastie making slot and having to join another later on in the day. Probably not a very good start.


Once we'd arrived, we had a quick wonder round the show. Then went to find Barber's as it was toastie making time. I won't write too much about this as you can read the full post
here
but it was such good fun. Sam and I decided to make a 'Cheesy BBQ Chicken Toastie'. This consisted of Barber's Vintage Reserve Cheddar, cooked chicken, BBQ sauce, sweet pepper and red onion. I thought it went quite well, people seemed to enjoy it anyway.

After just over and hour to ourselves to wonder, it was time from the Cheese Tour and Cider Tasting. I'm pretty sure this was the highlight of Sam's day. I don't think I've ever seen so much cheese in one place. We were then joined by Louisa Sheppy from Sheppy's Cider and aimed to work out which cider paired Barber's Vintage Reserve Cheddar the best. Obviously we were all going to have different views and 'favourites'. We tried their Falstaff Cider, Oakwood Cider, Oak Matured Vintage Reserve and their Blackberry and Elderflower Cider (which they'd only been selling for two weeks). The majority agreed that the Oakwood Cider was the best in terms of pairing with the Vintage Reserve Cheddar (I thought this too). But the Blackberry and Elderflower was my personal favourite in terms of taste.



We then got to try some of the winning cheeses from the Cheese Awards in a tour led by Mike Pullin.  We tasted three different cheddars that had all been made in different ways but with the same ingredients. The difference in tastes and textures was crazy. It was amazing to see how much a simple change in the method made such a difference to the finished product. We also got to try the 'Supreme Champion' – the 'Barkham Blue Two Hoots Cheese. Sam isn't too keen on blue cheese so grabbed another bit of cheese close by to 'wash it down' but… he picked up goats cheese which he's also not fond of. I couldn't stop laughing at his facial expression followed by 'all I can taste is mouldy goat' – he won't be doing that again!

After the tour and tasting we went to get a late lunch. Although neither of us were very hungry as we were totally 'cheesed out'. I ended up just getting a tray of chips to pick at whilst we had another look round the show. We got chatting to someone (I'm so sorry I can't remember your name) from The Mixing Bowl Preserves who had some fabulous chutneys on display. He very kindly gifted us two chutneys. The Sweet Apple and Cider and Rhubarb and Chilli Chutneys. These will be featured in Wednesday's Cheese Tasting post.
We left with this jam packed goody bag from Barber's (we bought the Applewood Cheddar and the Farmhouse Mature Cheddar as we couldn't resist them). I think we'll be living off of cheese for the next few weeks. My Cheese Tasting post will be live next Wednesday. I'll let you know what I think of their different cheeses and I'll hopefully find time to do some recipes incorporating their cheeses too.
Have you tried any cheese from Barbers?
Until next time,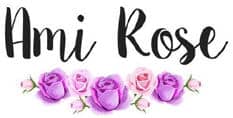 Be sure to follow me on social media to keep up to date with my latest posts!
You can find all of my social media links in the sidebar. I am @AmiRoseBlog on everything.