Adele made Gingerbread Men the other week and it made me realise that I hadn't made them in around five years which is crazy! I had all the ingredients to make them in the cupboards so I thought I'd give them a go, I just had to find my old recipe. When I last made Gingerbread Men I spent weeks trying to source the perfect shaped cookie cutter, I didn't realise just how many different shaped Gingerbread Men, and women, and children, you could get. I bought my cookie cutter in John Lewis and you can find a similar one here.



Gingerbread Men Ingredients:
Makes around 12
350g plain flour
1 egg
1 tsp baking powder
2 tsp ground ginger
1 tsp cinamon
180g soft brown sugar
130g butter (at room temperature)
3 tbsp golden syrup
Along with anything you would like to decorate them with such as writing icing and/or sprinkles
Method:
Preparation – 40 minutes | Baking – 15 minutes

1. Mix together your flour, baking powder, cinamon and sugar until combined. Then add butter and rub in with your fingertips until the mixture resembles breadcrumbs. Then stir in the sugar.
2.  Beat the egg in a separate bowl then add the golden syrup to the egg and beat again. Add to the flour/butter mixture and stir or knead until it forms a dough. Wrap the dough in clingfilm and leave in the fridge to chill for 15 minutes.

3. Whilst the mixture is chilling, line a couple of baking trays with baking paper, preheat your oven to 180c and dust your work surface with flour ready to mould the dough into Gingerbread Men.
4. Roll the dough out to around half a cm thick then cut out the shapes using your chosen cookie cutter. You can use any cutter you'd like, hearts, stars, flowers, Christmas shapes etc.

5. Place your shapes onto the baking tray making sure there's space between them as they will expand slightly whilst baking. Place in the oven for 10-15 minutes until golden, leave them in for longer if you like really crunchy biscuits.

6. Leave to cool and then decorate as desired. I even put a Christmas jumper on one of mine.

Enjoy… 
I'd love to see your photos on Twitter (@AmiRoseBlog) if you have a go at making these, especially your decorations.
Until next time,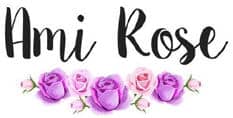 Be sure to follow me on social media to keep up to date with my latest posts!
You can find all of my social media links in the sidebar. I am @AmiRoseBlog on everything.