As you walk towards the busy Bristol Waterfront, opposite the fountains and the Bristol Hippodrome you will find Aluna. A Bar and Restaurant priding themselves on providing a truly unique experience. We headed to the Bar Entrance and were met with a thriving yet relaxed atmosphere. It seemed the perfect place to let off steam from a manic week.
We were shown through to our cosy table, tucked away in the corner of the restaurant. I honestly couldn't get over the gorgeous, unusual design of Aluna. I was definitely taking tips for my own interiors. The velvet seats were so comfortable and the lighting was perfect, giving it that much needed relaxed atmosphere. The walls are filled with copper/golden mirrors and old-fashioned prints. It's like nothing I've ever seen before so it's hard to describe. You'll just have to go and see for yourself.



After reading through the extensive menu we settled on our first drinks. Sam had the Lava Lamp, an orange based cocktail and I went for the Raspberry Sling from the Mocktail menu. The mixologists really live up to their name of 'Social Scientists'. Sam's Lava Lamp cocktail arrived bubbling away, like its name would suggest, and stayed that way for a good 15 minutes. Absolutely fascinating to someone like me that doesn't have a clue how these things work. My Raspberry Sling was divine, it was a sweet, but mildly bitter homemade lemonade.
Whilst we were enjoying our cocktails, we browsed the menu and decided on our food. There was a vast menu, with things from pasta dishes, to burgers, to Thai curry and Lobster to choose from. There was plenty of choice on the Asian and European inspired menu. Even for a fussy vegetarian like myself. I chose the Bruschetta Pomadoro to start and Sam had Nachos topped with chicken. Although I was tempted to ask for a vegetarian version of the Nachos which I'm sure they would have done but I always get Nachos so I thought I'd try something different. I was pleased I did, the Bruschetta was lovely, a perfect combination of flavours with the tomatoes, rocket and olive oil. But I must say the couple of Nachos I stole from Sam's plate were pretty good too.


For our mains, I had a tough choice between the Thai Vegetable Curry and the Jerk Vegetable Wrap. I chose the latter but swapped my chips for sweet potato fries [of course]. Sam had the Aluna Burger but was tempted by the Lobster. My wrap was thoroughly enjoyable considering some of the fillings were those that I wouldn't usually go for, such as courgettes and olives. The only thing I would say is that it wasn't very spicy, which is ideal if you're not too keen on spicy foods. But I would have liked a bit more of a kick to mine. The sweet potato fries were divine, they made the meal for me.


We were both absolutely stuffed, but in true us style, we couldn't resist dessert. Especially where chocolate brownies and cheesecake are concerned. Sam and I are almost identical with our dessert choices which is strange considering we're polar opposites when it comes to most other foods. Both cheesecake and chocolate brownie are our favourites so we just had to order both and go halves on each. And oh my they were gorgeous.  My mouth is watering thinking of that chocolate brownie, absolutely delicious, melt in the mouth, rich chocolate. But if I thought that was dreamy, the cheesecake was even better. A perfect creamy cheesecake, with the perfect crunchy base and a bittersweet mango topping.
It was time for one last cocktail before heading home. Sam wanted to try the Aluna Secret Concoction as he was told this one was set on fire. I had the Mixed Berry Mojito, again from the Mocktails menu. Honestly who needs alcohol when the mocktails taste this divine? The Aluna Secret Concoction lived up to expectations and filled the restaurant with fire as it was bought over to our table. I tried to get a photo but it all happened so quickly. This one smelt of roasted marshmallows and tasted like strawberry milkshake apparently. Different to any cocktail Sam had ever had before, he was really fond of this one.
One of the main things worth noting about Aluna is the price. Aluna has the looks and feels of quite a luxury restaurant. The atmosphere is wonderful – despite it being Saturday night, their busiest time of the week, we were really able to sit back and relax. And the staff were second to none. All of this considered, I was more than impressed with the prices at Aluna. My wrap was only £9.95 and Sam's burger was £11.95. Desserts started from £4.95 and starters the same. They even have a 2-course lunch menu for just £9.95 so I'll definitely be going back to try some of the other things on the menu.
Have you eaten at Aluna before? Would you pick any of the foods/drinks we tried?
Until next time,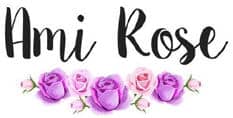 Be sure to follow me on social media to keep up to date with my latest posts!
You can find all of my social media links in the sidebar. I am @AmiRoseBlog on everything.