It's been a while since I've written a skincare wishlist, or any type of wishlist for that matter. As many of you know over the last couple of years I was suffering with really bad acne breakouts. Aged 25 and my skin was the worst it had ever been. I had to be so careful with the products I was putting on my skin and was worried about introducing new products to my routine. I spent months figuring out a skincare routine that worked for me, as well as making many changes to my lifestyle, and finally I'm starting to see a light at the end of the tunnel. You can find a before and after photo of my skin on Twitter here – I can't quite believe the difference.
I'm finally at a point where I've started adding new products to my skincare routine, without feeling like I'm going to end up back at square one. My lust list is growing and growing and I wanted to share a few of those products with you. I'd love to hear if you've tried any of the products yourself and whether you'd recommend them? As well as any products that have helped with acne scarring as that's my main problem at the moment.

Bare Minerals Complexion Rescue Defence – I've been seeing this one everywhere at the moment and I'm so desperate to give it a go. I've been using the Nip and Fab Glycolic Fix Moisturiser as a daily SPF for quite some time now, which I love, but I'm ready to try something new. This is a lightweight 3 in 1 moisturiser that protects from sun, pollution and blue light (from phones, laptops etc). A daily SPF is so important to protect your skin so this is a step in my routine that I never miss. Even throughout the winter months.
Neals Yard Detox Toning Oil – This is one of those "does it all" products, a detoxifying toning oil with blends of lemon, black pepper and frankincense. With regular use this can help eliminate toxins from the body as well as improving overall skin tone. Neals Yard products smell absolutely divine, I love their Relaxation and Night Time "Remedies To Roll". I bought one of these recently and always have it with me.
Kiehls Midnight Recovery – This one has been on my skincare wishlist for a long long time. But I just cannot bring myself to spend nearly £40 on a facial oil. I very nearly bought it at JFK airport earlier this month but resisted as I'd already bought one to many things (two handbags, oops) whilst in New York. Em Sheldon swears by this one and I'm always envious of her skin. This one may make it to my basket sooner than anticipated…
Le Roche Posay Efficlar Duo – Another that has been on my wishlist for quite some time and this is much more affordable at £16. I'm waiting for a good sale/discount on Feel Unique so I can stock up on many (all) of these items. They usually have 20% off which I know I'm going to take advantage of. The Efficlar Duo is an anti-blemish moisturiser which helps reduce the appearance of pigmentation and provides 24 hour hydration.
Glam Glow Gravity Mud – I've been lusting over a Glam Glow mask for YEARS. And I keep getting drawn towards the Gravity Mud which is the Silver Peel Off Mask. I must always drawn to shiny things! This one transforms from a white to a brilliant chrome. I like the idea of the Gravity Mud as it's a 20-30 minute treatment. I much prefer longer treatments than quick 5 minute ones as I make a big deal of a "pamper session" and feel like I'm rushing around with the "quick action" face masks.
Borboleta Beauty Lash Serum – I've been wanting to make my lashes a bit fuller and saw this eyelash serum recommended on Instagram. You can add it as part of your evening beauty routine and in as little as 4 weeks you should notice lashes looking longer and fuller. I've loved looking at the before and after photos on their website.
Have you tried any of the products on my Skincare Wishlist? I'd love your recomendations if you have.
Until next time,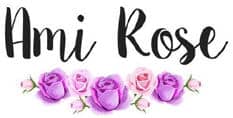 Be sure to follow me on social media to keep up to date with my latest posts!
You can find all of my social media links in the sidebar. I am @AmiRoseBlog on everything.