OK, I'm going to admit it… these are my first LUSH purchases. I'm one of those people that go against the 'hype', if everyone's got it, I don't want it. I'm not sure why but that's usually the case. Anyway, when the LUSH Christmas sale was launched online I didn't even want to take a peek. It wasn't until their website crashed and everyone was talking about it on Twitter that I thought I'd pop into my local store and finally see what the fuss was about. I went the day after boxing day. It was surprisingly quiet and LUSH had each of their Christmas items in stock in their 100's.
Obviously if I was going to try it, I had to do it properly so I picked up one of almost everything. I was shocked when all 6 items came to £11, I thought it was going to be much more.




The first thing I picked up from the LUSH Christmas Collection was a Peeping Santa Bubble Bar. This is a gorgeous fruity bergamot and floral geraniu. Which is to be crumbled under warm running water to create bubbles. I used about a quarter of this one and loved the scent. It created so many bubbles and I couldn't wait to jump in the bath.
Another Bubble Bar I bought was Five Gold Rings. I really liked this one when I saw it in the store although I held it for a couple of minutes and was covered head to toe in glitter. These are a vanilla scent which I usually find quite relaxing. I haven't tried these yet but I'm assuming you use one at a time in the same way as Peeping Santa.
I can't figure out the smell of Star Dust. It doesn't smell very strong but it's meant to be 'festive scented'. With LUSH Bath Bombs, do you use the entire thing in one bath or can you break it up and use it in multiple baths? Complete newbie here but £3 seems a lot to spend on one bath!
I had to pick up a Luxury Christmas Pud as I heard Tanya mention it in a couple of her vlogmas videos. This has the strongest scent out of all the ones I purchased. Much stronger than the others in fact but it smells so good. I haven't used this one yet. I think I'm going to save it for when I really need to relax and wind down.
The last Bath Bomb I picked up is Butterbear, which is so very cute. This is another vanilla scented one and also contains cocoa butter to soften skin.
Lastly I bought a 'FUN' to try. I had already had a play around with one of these in the shop so it will be interesting to try out in the bath. I really like that LUSH have everything on display for you to try, smell, play with first. They often do demos of the bath bombs too. I chose the caramel fragrance which is the same scent as a Honey I Washed The Kids soap. I can't wait to use this one.
After trying and smelling a few of the products I really do know what the fuss is about and I'm already planning my next purchases. I'd like a lip scrub and a face mask (recommendations please). I'm slightly disappointed in myself that it's taken me this long to try anything!
Can you remember your first ever LUSH purchase? Have you bought anything from the LUSH Christmas range?
Until next time,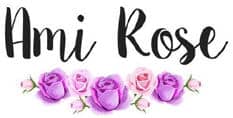 Be sure to follow me on social media to keep up to date with my latest posts!
You can find all of my social media links in the sidebar. I am @AmiRoseBlog on everything.