One of my favourite Manicure Monday's to date. I love the monochrome look of these nails. MoYou kindly sent me two more of their Image Plates, including the MoYou Image Plate 113. I was desperate to feature this one as soon as I received it. It may not be everyone's cup of tea but I absolutely love it. There's some great designs on this plate that really put a smile on my face and I think these designs are perfect for a feature nail.
I'm sure everyone's aware of Nail Stamping by now. It's the hassle free way to create fantastic nail art. It's so simple I think even Milo could manage it (OK I may be exaggerating a little). MoYou have over 100 plates to choose from with a minimum of 5 designs on each plate. You can create almost anything. What I love about Nail Stamping is that you don't need to use a specific polish or brand to make these stamps work. They'll work with any brand or any colour.
I went for a monochrome look and painted my left hand white with a black feature nail and my right hand black with a white feature nail as I thought it would look a bit different. I then did the design in the opposite colour to the feature nail. Choosing this design with the glasses and the top hat. I think it's my favourite on the plate. My nails are TINY so the other designs would only have gone on my thumb nail.





You'll have to excuse the current state of my nails. I need a manicure but I couldn't wait to get these photos up. If anyone has any remedies/go-to products for dry skin around the nail beds please let me know. My hands suffer so badly in the cold.
Have you tried nail stamping before? What do you think of the MoYou Image Plate 113?
Until next time,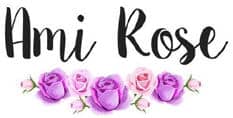 Be sure to follow me on social media to keep up to date with my latest posts!
You can find all of my social media links in the sidebar. I am @AmiRoseBlog on everything.