It's been a while since I've found a volumising shampoo and/or conditioner that doesn't completely dry my hair out. I couldn't wait to tell you about this Maria Nila Pure Volume duo. Maria Nila isn't a brand that I've been familiar with for a while but I'm so glad I've discovered it now. I love that blogging gives us a chance to try so many lovely products that we probably wouldn't have bought otherwise. They're a brand mainly aimed at salons but supply to the public via http://sallyexpress.com/.


I often find with volumising shampoos and conditioners that yes, they may add volume but they do so whilst really drying my hair. I've always steered clear of them in stores. I tried the Shampoo* and Conditioner* from the Maria Nila Pure Volume Range and after only using them a handful of times I'm already ready to rave about how good they are. They come in two sizes, a 100ml travel size or a 300/350ml regular size. The shampoo is 50ml larger than the conditioner due to double washing. I'm not sure whether this is something that everyone does but I always have. If you only wash your hair once all you're doing is washing the dirt around your hair whereas the second wash actually rinses this dirt (probably the wrong word to use but you know what I mean) out of your hair.
It doesn't have any specific scent to it and I do like a good scented hair product. Although I'm currently using Body Shop's Strawberry Shower Gel which more than makes up for it. This makes my bathroom smell gorgeous for hours. I've been washing my hair twice with the shampoo, just a little bit each time. You don't need to go over the top. Then moving straight on to the conditioner. I'm guilty of using far too much conditioner and it's really not necessary and can weigh your hair down. I've been using only a small amount, leaving in on my hair for two minutes whist I wash then I rinse it out with as cold water as I can put up with. This isn't usually a problem as we've got an old fashioned hot water tank which is usually empty by the end of every shower.

This duo is free from sulphates and parabens, full of Vitamin B5 and 100% Vegan as are all of their products. This photo is a couple of days after using this for the second time and I'm amazed how much volume my hair has. I've always had thick hair and lots of it but it tends to by an uncontrolled frizz ball whereas this shampoo and conditioner has helped to keep it big and in place and combat this unwanted frizz. I've got my hair washing down to twice a week now after getting to the point of washing it nearly every day (not good at all) and look forward to using this set now.
They've got so many other products on their website that I love the sound of, especially their Structure Repair range and the Luminous Colour Masque.
What are your favourite volumising hair products? Have you tried any of Maria Nila products?
Until next time,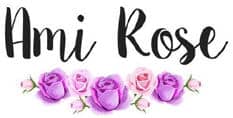 Be sure to follow me on social media to keep up to date with my latest posts!
You can find all of my social media links in the sidebar. I am @AmiRoseBlog on everything.