I was sent a lovely hamper from Boutique Vegan last week including this Detox Pack* by Scotch Naturals. I've got a full post on Boutique Vegan including many of their other products next week. But basically it's an online shop selling all things vegan; whether it be cosmetics, food, pet food or washing up liquid they've got it.

Their Scotch Naturals Detox Pack contains a Base Coat (Sticky Base Coat*), Top Coat (On The Rocks*) and a nail colour of your choice. I chose Seething Jealousy*. It comes in a really well presented box too. I think it would make a lovely gift.
I prepared my nails using No7's Nail and Cuticle Cream then painted them with the Sticky Base Coat. This was a bit different than any base coat I'd tried before, obviously due to the sticky factor. This isn't a polish that you can wear on it's own, it doesn't actually dry but it's meant to work better with your water based polish, making it last much longer – it does. I then painted my nails with the colour in Seething Jealousy. I did find that this didn't cover my nails as much as some polishes do and I had to use three coats to get to this desired effect although the 'natural factor' makes it worth it and lasts forever once it's on your nails.

One thing I was so impressed with was how quickly this polish dried. Seeing as I'd done three coats I thought I wasn't going to be able to touch anything for at least an hour but it dried in minutes, literally. It was dry to the touch within no more than 5 minutes. I've never known a polish like it. I finished of this nail art look with my 'go-to' top coat, Orly Tough Cookie as this gives my nails such a wonderful shine. I've had this colour on my nails for nine days now and not one chip. I'm already deciding which colour I want to add to my Scotch collection next.
Have you ever used Scotch Naturals polishes? Which is your favourite colour?
Until next time,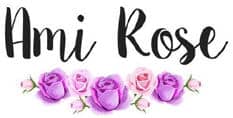 Be sure to follow me on social media to keep up to date with my latest posts!
You can find all of my social media links in the sidebar. I am @AmiRoseBlog on everything.