It's Monday again which means time for #ManiMonday! I don't know where these weeks are going and I can't believe it's already June, you wouldn't think it though with this horrible weather.

Today's Manicure Monday features MoYou image plate 128* – one of my personal favourites from their selection. I decided to use a Rimmel 60 Second Dry polish as I really didn't have much time to create this look, I went for 'Funtime Fushia' which is an old favourite of mine, I'm not sure whether it's still available though. If you're not aware of nail stamping yet, there's a more informative 'how to' in this post; this entire nail art look took me no more than 10 minutes, including painting the base colour so you've got no excuses now!

I went for the 'zig zag' pattern on the plate as I thought it would look the most effective on the pink base but there's a striped pattern that I really want to use with a yellow base (watch this space).
What do you think? This is such a simple but effective pattern!
Have you used MoYou or any other nail stamping brands plates before? I'd love to see some pictures on Twitter of your finished looks (@AmiRoseBlog).
Until next time,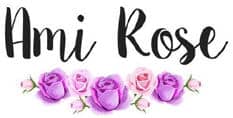 Be sure to follow me on social media to keep up to date with my latest posts!
You can find all of my social media links in the sidebar. I am @AmiRoseBlog on everything.