MoYou have just released 14 new Image Plates so I wanted to try some of the new designs the share these new plates with you. I've mentioned MoYou quite a few times on my blog now so I'm sure my regular readers will understand the concept but MoYou create 'Image Plates' which help you print detailed designs onto your nails using a rubber stamp and their 'Special Nail Paint'. Their new range of Square Image Plates each feature up to 25 designs and retail at £4.99 per plate.


This design is from Image Plate 400* which is my favourite from their new collection; this is filled with Optical Illusion style prints, I can't wait to try some more of these designs. Most of the designs on this plate will look effective in black and white but I thought I'd add some colour to this nail look to make it look like swirled water.
I prepared my nails using my new Burts Bees Lemon Butter Cuticle Cream which smells gorgeous then applied a coat of BarryM Iron Mani for a base coat. I then painted two coats of BarryM Gelly Hi Shine Nail Paint in Guava, I waited 30 minutes to ensure my colour was completely dry before applying the nail art.
It was then time to add the pattern, this is such a simple process but so effective. You paint over the design of your choice using one of MoYou's Special Nail Paints then scrape of the excess with the tool supplied in their kits. You then use the rubber stamper (again, this is supplied in their starter kits) and stamp the pattern from the plate then onto your nail, the pattern will dry instantly so you can wipe of any excess nail polish from around your nail immediately.
Finish with a top coat of your choice, I always like to use Orly Tough Cookie as this adds an amazing amount of shine and really completes the nail art look.
What do you think of this design? Have you used any MoYou products before?
Until next time,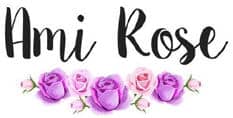 Be sure to follow me on social media to keep up to date with my latest posts!
You can find all of my social media links in the sidebar. I am @AmiRoseBlog on everything.