Roll up roll up, I've got a new summer favourite. I've got a feeling this will be a favourite for a while now too. How gorgeous is the colour? This will probably be a short Manicure Monday today but I wanted to share this colour with you and talk a little about BarryM's Gelly High Shine Range.

BarryM's Gelly Range isn't a new thing. Although they do keep adding new colours to this ever expanding range throughout the seasons. I do love that BarryM are introducing so many new products and colours but I do feel they can neglect older products that 'work' and favour their newer products. I mean when was the last time they added a colour to their Classic Collection? I'm hoping this doesn't happen to their Gelly Collection as it's been a long time favourite of mine.
This range has such a lovely formula, it's thick, goes on your nail evenly and dries relatively quickly too. Although you can't beat their Speedy Quick Dry range for drying time. It's the finish of this polish that has made me fall in love with it though, it dries to an extra glossy finish and lasts so long on your nails without a single chip, I sometimes forget to put on a top coat and it still lasts over a week.
I can remember buying the first ones they brought out. It was Blood Orange and Blackberry I bought first and I've since bought Mustard and Paprika from their A/W14 range (such lovely colours) but Blueberry (as pictured above) is a new favourite of mine. It looks either blue or purple depending on the lighting and it's such a perfect summer colour for me.
Have you tried any polished from BarryM's Gelly High Shine Range? Which one/s is your favourite?
Until next time,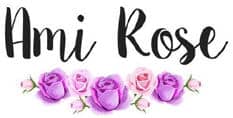 Be sure to follow me on social media to keep up to date with my latest posts!
You can find all of my social media links in the sidebar. I am @AmiRoseBlog on everything.