I was sitting in my office staring at the huge box of Jelly Beans* kindly sent to me by Jelly Belly and it brought me right back to my school days. I'm not sure whether I'm imagining it but I could be almost certain that the school canteen sold Jelly Bean Cookies. I'm sure I had one somewhere anyway. I thought instead of just scoffing the entire box (which I could have done quite easily), that I would incorporate them into a couple of recipes. Jelly Bean Cookies this week and something even yummier (and easier) next week. You'll just have to wait for that one.

Jelly Bean Cookies Ingredients:
Makes 8 medium cookies 
100g butter (at room temperature)
1 egg
200g self raising flour
150g caster sugar
1 tsp vanilla essence
100g jelly beans (I used the Jelly Belly Jewel Collection)
50g marshmallows
Method:
Preparation – 10 minutes | Baking – 10 minutes
1. Preheat oven to 200°c and line two baking trays with baking paper.
2. Whisk the butter and sugar together until smooth, either with an electric whisk or wooden spoon. Beat the egg in a separate bowl then add to the mixture along with the vanilla essence and whisk again until well combined.
3. Using a wooden spoon, fold the flour into the mixture a little at a time.
4. Cut 50g of the jelly beans in half and keep the other 50g whole. Stir these into the mixture along with the marshmallows.
5. Using your hands, form 8 balls with the mixture and place on the prepared baking trays. Make sure to leave enough room between the cookies as these will flatten and spread.
6. Place in the oven for 12 minutes. Then remove from the oven and leave to cool.
Enjoy…
I'd love to see your photos on Twitter (@AmiRoseBlog) if you have a go at this Jelly Bean Cookies recipe. What is your favourite thing to bake for summer?
Until next time,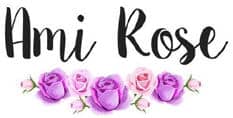 Be sure to follow me on social media to keep up to date with my latest posts!
You can find all of my social media links in the sidebar. I am @AmiRoseBlog on everything.