Last month I made my way to the Island Bar Birmingham to spend my Sunday with almost 40 other wonderful bloggers. The lovely Kirsty from www.kirstyleanne.com organised the #BloggerTikiParty and I'd been looking forward to it for months. Just like I'm looking forward to the #BloggerHalloweenParty in October as Kirsty always puts on THE best events. I arrived at the Island Bar Birmingham slightly late as I didn't have a clue where to park but I wasn't the last to arrive for once.


I made my way to the bar right away. In celebration of National Pina Colada Day (yep, that's a thing), Malibu were giving away vouchers for a free Pina Colada. As I don't drink, I asked the barista if he'd kindly surprise me with something non alcoholic. He made me the most gorgeous banana colada style drink with my very own banana dolphin eating a raspberry. Impressive right?
The rest of the event was spent mingling with other bloggers and the many brands attending the event. Kirsty always manages to get so many lovely brands involved with her events. And the goody bags are from another world. Hats off to this girl, she goes above and beyond to make sure the events are absolutely perfect. I got chatting to the lovely girls at Heaven Skincare and let them know just how much I love their Bee Venom Mask, I then met the girls at Love Aroma who gifted us with some gorgeous candles and wax melts (the way to a girls heart). If the goody bags weren't enough, there were individual gifts from other brands such as Earlybird, Little Bit Lavish and Pink Parcel that we could pick up too. Weren't we spoilt?
After we'd had time to get to know each other and have a few drinks, it was time for the raffle. There were some amazing prizes, I was eyeing up the Neals Yard hamper *heart eyes emjoi*. I didn't win in the raffle but I did win best dressed. Yep, last minute Primarni shopping really did pay off. This jumpsuit fitted the tropical theme perfectly don't you think? I did spend about 30 seconds looking around the room for Ami to collect her prize before I realised it was me though, I never win anything, especially if it's to do with fashion!

And before we knew it, we were being handed goody bags bigger than us and the event was over. I refrained from going through my goody bag before I got home but gosh it was amazing. The foodie items were my favourite, especially the Dilly and Wolf Fava Beans featured here, the Yushoi Rice Sticks and the Drumstick Bon Bons. I have spent hours on the colouring book too. I think I underestimated how relaxing colouring really was. I'm sure I'll be featuring many of the other goody bag items in upcoming posts so keep a look out for those.
Thank you so much Kirsty for organising yet another fantastic event. See you at the next one!
Have you visited the Island Bar Birmingham before? Have you been to a blog event recently? I'd love to hear all about it.
Until next time,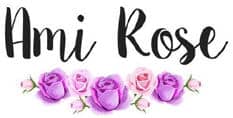 Be sure to follow me on social media to keep up to date with my latest posts!
You can find all of my social media links in the sidebar. I am @AmiRoseBlog on everything.