One of the most difficult things with renovating our house has been trying to figure out which Wallpaper to use on feature walls throughout the house. It's so difficult to visualise what something is going to look like before it's finished. But Inspired Wallpaper have made it so much easier for us. They're an online company, selling hundreds of different types, styles and colours of Wallpaper. Their website is so user friendly, making it possible to shop by colour, room and style. With prices starting at just £9.99 per roll. Don't let the idea of an online company put you off either as you can request A4 samples if you're finding it hard to make a decision.

Our first decision was the Hallway Wallpaper. Well, we weren't planning on putting Wallpaper on the Hallway until we stripped the old Wallpaper to uncover this [not so] gorgeous Purple wall. Someone had also painted the Purple on the wall without mist coating the fresh plaster too. If we wanted to paint this wall we would have had to endure the task of sanding each and every bit of paint off the wall first. So we're taking the lazy option, and covering it up instead…
We've decided on a Grey colour scheme throughout the house. We've gone with Dulux White Mist on all of the walls and are currently trying to decide on a carpet. We're going for Light Grey but who knew there were so many different shades, designs, styles, thicknesses to chose from? Knowing we wanted to go for a Grey Wallpaper, we shopped by colour on the Inspired Wallpaper website and selected Grey. I narrowed it down to a few and ended up going with the Inspired Wallpaper Calico Leaf Soft Grey Floral. How gorgeous? We were so impressed with the quality when the Wallpaper arrived as we didn't know what to expect for £13.99 a roll. It's top quality textured Wallpaper and it looks even better in 'person' that it does in the photos.
This was meant to be a post showing you how lovely our Hallway looks with this gorgeous Wallpaper but anyone that's ever renovated a house will know that nothing ever goes to plan. We're having to move/update the Gas and Electric Meters that are on the Hallway wall so can't do anything until that's done. So instead I wanted to post the Hallway 'before photos' and write a little Inspiration post on the Wallpaper we've chosen. Then I'll post the 'after photos' in due course. Crossing our fingers that we'll be able to Wallpaper in the next few weeks because I'm getting fed up of the Purple wall. And I liked the colour Purple before…
Sticking with the Grey theme, we've also decided on the Quattro Stripe Dove Grey Striped Glitter Wallpaper for the Lounge. Again to cover an uneven wall where a fireplace was. Are we lazy? We were originally going to Wallpaper the little back wall as I had a Black Wallpaper but we thought that may be a little too dark. I fell in love with the Quattro Stripe Wallpaper almost immediately and cannot wait to put this one on the feature wall. Or should I say cannot wait for my Mother to put this on the feature wall as she's the Wallpaper expert!

I'll be updating this post soon [hopefully] with the 'after photos'. I can't wait to see how the Calico Leaf Wallpaper will change the entire look of the Hallway. We've got to decide on the Bedroom Wallpaper next, we're going for a Navy theme so I'd love to hear your ideas. I really like the Ash Branch Dark Blue Floral and the Chevron Navy Blue Geometric but I'm thinking these may be a little to busy for a Bedroom?
Have you shopped with Inspired Wallpaper before? What are your favourite designs?
Until next time,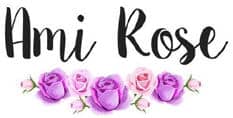 Be sure to follow me on social media to keep up to date with my latest posts!
You can find all of my social media links in the sidebar. I am @AmiRoseBlog on everything.