I love doing "themed" baking and just had to make these Easter Cupcakes when I spotted them on Dr. Oetker's website. How cute? I made vanilla cupcakes instead of chocolate as I prefer these but you can swap 25g flour for 25g cocoa powder if you'd like to make chocolate cupcakes. These would be perfect for an Easter party and I'm sure children of all ages, and adults of course, would absolutely love them. They didn't last long in our house!

Easter Cupcakes Ingredients:
Makes 12 Cupcakes
125g butter/margarine
125g caster sugar
1tsp vanilla extract
2 eggs
1tsp baking powder
150g plain flour
Icing/Decoration
125g butter
225g icing sugar
1tsp vanilla extract
Green food colouring
Ready to roll icing
25g cocoa powder
White chocolate chips
Method:
Preparation: 45 minutes | Baking: 25 minutes
1. Preheat oven to 180c (160c fan) and line a cupcake tray with 12 baking cases. Put the butter, sugar, vanilla extract and eggs into a bowl and mix until combined. Sift the flour and baking powder into the mixture and stir again.
2. Divide the mixture between the 12 cases and bake for 25 minutes until well risen and bouncy to the touch.
3. Whist they're baking you can start making your bunnies. Set a small bit of the ready to roll icing aside for the insides of the bunnies feet. Fold the cocoa powder into the remaining ready to roll icing until well combined. The icing will go from white to the chocolate colour/flavour. Divide this mixture into 13 pieces – make 12 into balls to form the bunnies bodies then make the feet with the remaining mixture. Use the icing you set aside to make the inside of the feet and top with a white chocolate chip for the tail. Set these aside whilst you make your icing.
4. Remove the cupcakes from the oven and leave to cool. Beat butter until pale and creamy then add the icing and vanilla extract to make the icing. Add the green food colouring until its a green grassy colour. Spread this onto the cupcakes lifting the spoon to make an uneven, grass effect then top with your bunny bums.
Enjoy… 
If you'd like to try any other Easter baking I also have recipes for Easter Biscuits, Easter Nests and Easter Themed Vanilla, Chocolate and Berry Cookies.
I would love to see your photos if you have a go at making these Bunny Bun Easter Cupcakes.
Until next time,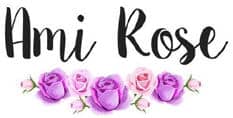 Be sure to follow me on social media to keep up to date with my latest posts!
You can find all of my social media links in the sidebar. I am @AmiRoseBlog on everything.