We're 15 days until it's officially Spring and what better way to kick of the Spring trends than these gorgeous nail colours from my all time favourite Nail Polish brand, BarryM. This is the BarryM Ice Cream range along with some other delightful pastel colours from their ever growing collection. Pastels are my favourite for this time of year so I couldn't wait any longer to dig these out from my collection.



Swatched from L-R… Peach Melba, Blueberry Ice Cream, Strawberry Ice Cream, Lemon Ice Cream, Boots Limited Edition (unfortunately no longer available) however Berry Ice Cream is a close match, Mint Green. These nail paints are some of my all time favourites. Even now when I'm editing this post two years later. I find that most of them cover with just one coat. Perfect if you're in a bit of a rush and haven't got all day to wait for your nails to dry. The brush size on
BarryM polishes
are perfect for me too. Probably such a weird thing to pick up on but I have such tiny nails it makes all the difference.
My favourite from this selection are Blueberry Ice Cream and Lemon Ice Cream. But Peach Melba is also a gorgeous "all year round" polish. I've probably worn this one the most out of the selection. These Nail Paints are just £2.99 each and are available from
Superdrug
, all larger Boots Stores and in various other stores such as River Island.
What are your favourite shades for Spring? What do you think of the BarryM Ice Cream range?
Until next time,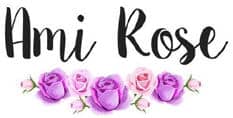 Be sure to follow me on social media to keep up to date with my latest posts!
You can find all of my social media links in the sidebar. I am @AmiRoseBlog on everything.